This innovative digital solution for storage and recommendation of the cultural events is a product of a five-year joint effort of the University of Ljubljana and Kofein dizajn. It offers excellent support for all aspects of the event management of an ECOC city. The system comprises a complete digital infrastructure and is available for implementation.
WHAT YOU GET
1   MARKETING SIMPLIFIED
Event marketing and spreading the audiences are two basic tasks of a cultural organiser. The bigger the event, the bigger the challenge.
Our system offers all back-end and front-end tools to keep marketers as well as the public informed:
a desktop portal with event information;
a mobile app for IOS;
a mobile app for Android;
a plug-in for web-pages;
an API for open access to all events for third party advertisers.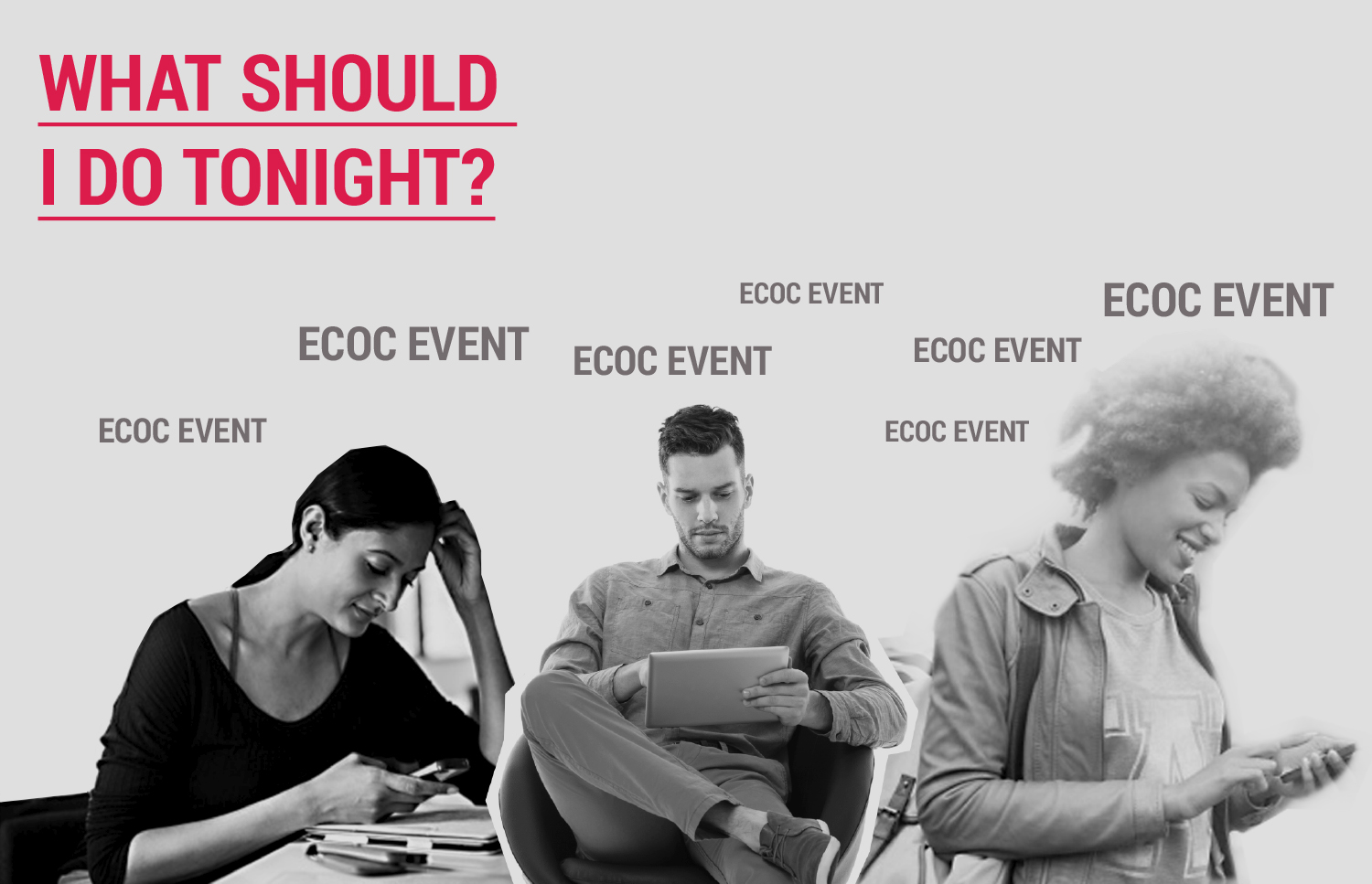 2   PERSONAL RECOMMENDATION
How to find the right people for the right events? We developed an innovative, awarded recommendation algorithm specifically for cultural events. The algorithm uses artificial intelligence, namely machine learning, to find the best events for every user. It is built into a web application and mobile applications (IOS and Android).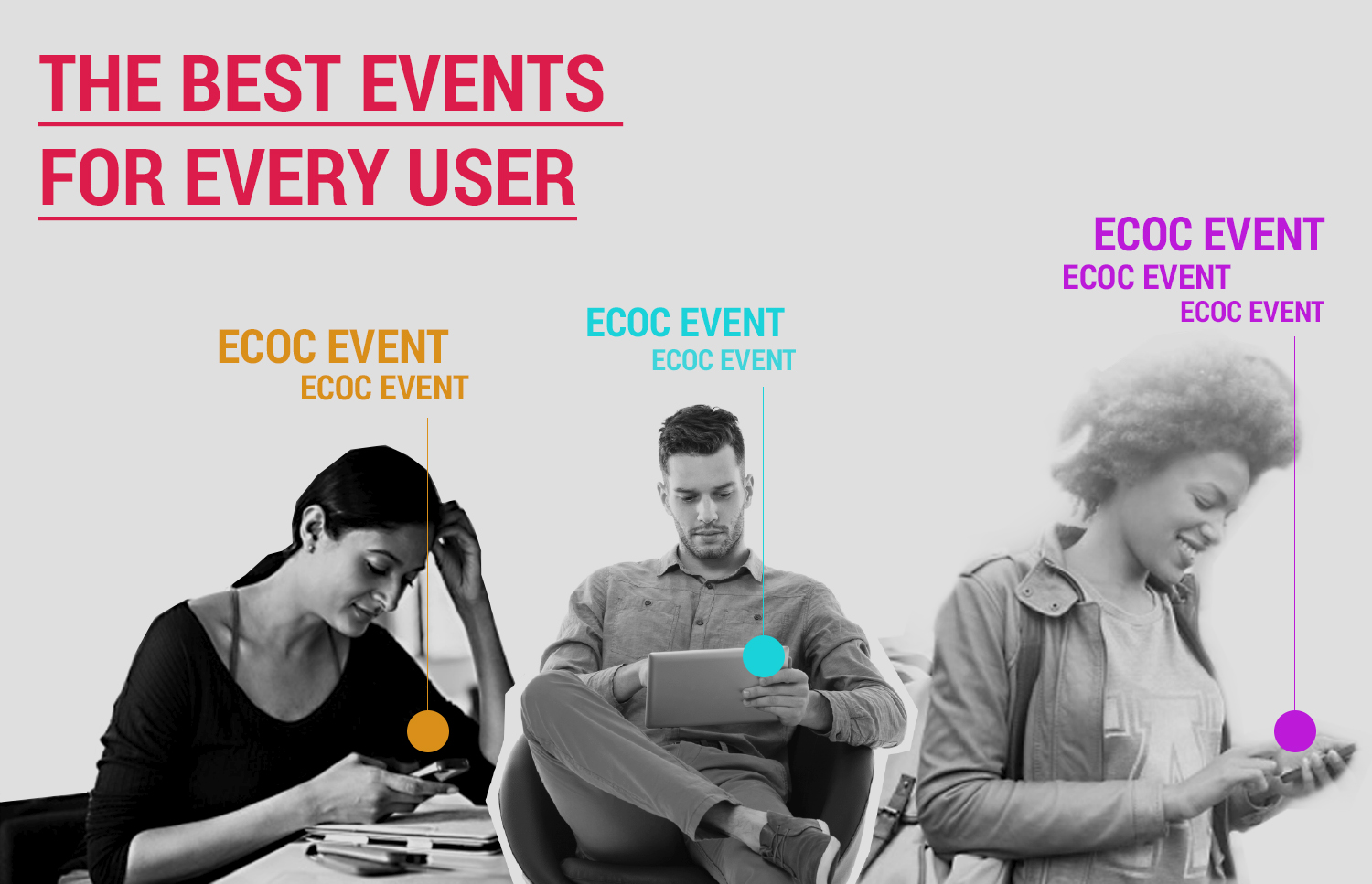 3   EASY DATA INPUT
It is often difficult to keep the database of events updated.
We make this easy through automatic connection to all existing databases with events data and a public, user-friendly online form, that enables even local communities and civil society to participate in the data sharing.
4   MEASURING IMPACT AND PROJECT SUSTAINABILITY
Implemented digital tools provide data on user involvement and behaviour, event ratings and generation of reports on the project's impact.
The system is set-up as an open digital infrastructure and is according to all the EU and OECD recommendations. Open data receives encouragement in funding as well as is seen as an important source/capital for developers in entrepreneurs. This assures a long-term sustainability for the project and the established user community.
THE IMPLEMENTATION STEPS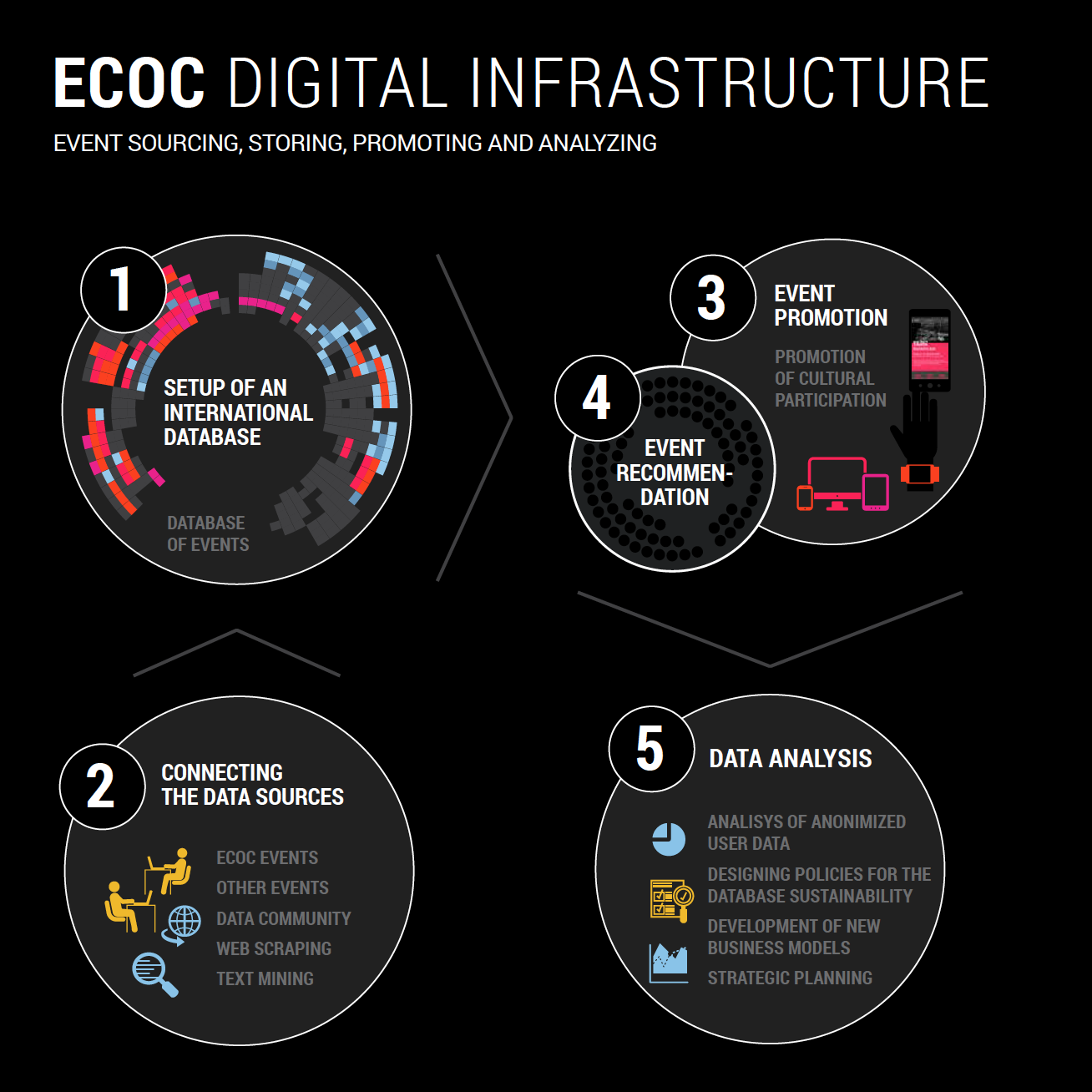 1   DATABASE SETUP
A set-up of a universal, open database for storage and search of event data.
2   INPUT OF EVENT DATA
Event data will be connected from different sources: ECOC and other events will be entered through the online form; the existing databases will be connected for automated fill-in; other sources can be connected as well (FB, specific communities, text mining, web scraping etc.).
3   EVENT PROMOTION
The event data will be promoted through a web application and mobile applications.
The event data will be also openly available to providers of cultural and touristic contents.
4   EVENT RECOMMENDATION
A recommendation algorithm will be installed. An innovative translation module can be developed specifically for the native languages of the ECOC country.
5   DATA ANALYSIS
The user data on the cultural consumption will be analysed and the reports can be used for strategic planning and the development of business models for a sustainable growth of the infrastructure.
ADDITIONAL INFO
the infrastructure is currently implemented as a functional prototype for Slovenia; the developed modules are: the database, a desktop user interface for input and management of the events and recommending, mobile apps (IOS and Android), recommendation algorithm; further applications can be developed;
the system is developed as an open source software; *the IP rights are only managed for the optional innovative modules i. e. recommendation algorithm;
the set-up and management (during the ECOC year) of the infrastructure can be executed by Kofein dizajn; installation and support fees may apply;
the database and its data during and after the ECOC year remain a property of the project organiser/ECOC city;
CONTACT
Zarja Vintar, MA, Msc, project leader
Kofein dizajn, Beethovnova 9, Ljubljana, Slovenia, +386 1 4268500
zarja@kofein.si